I love learning about new businesses and seeing what makes you unique. I'm here to help take your business to a new level in all things to do with graphic design and web development.
Whether it's a new logo, a stunning new website, business cards or advertising, you've come to the right address!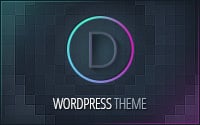 I work with various platforms such as WordPress, Shopify, Volusion and more, although I love to work with WordPress and especially the Divi theme (see affiliate link). It's so flexible and it allows me to quickly customise your site so it's totally unique on the 'front-end' whilst having a super clear 'back-end'. That means that you can come in and make any changes yourself just where you need to. I believe that you, the business owner, should have full ownership of your website and hosting. If you rather that someone else looks after your website once it's completed that's fine too!
I'm always looking forward to starting a new project! So, please be in touch!